Archive:Equipment/Babbage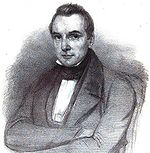 Purpose
Babbage is a general usage server that lives in the space.
Specs
OS: Ubuntu i686
CPU: Intel(R) Celeron(R) CPU 2.53GHz (1 logical core)
RAM: 1GB
Disks: 1x500GB
GPU: Intel Corporation E7221 Integrated Graphics Controller
Name
Named after Charles Babbage.
See also: System naming
IP
Services
These must be running in screen sessions:
python /usr/local/bin/Lighted/lighted.py
/usr/local/bin/powerBoard.sh
/home/jonty/doorbotlisteners/doorbot-lighted.py
motion
/usr/local/bin/Boarded/boarded.py
/home/jonty/irccat/irccat.sh
Synonyms
Showing 2 related properties.
B
E