Common Project - Xmas 2013
Not Just Arduino Xmas 2013
Projects
Idea
The Xmas 2013's Project is the first Common Project that NJA is going to introduce at the meetup, people are welcome to help and join it. The last meetup we decided what kind of project to introduce and we chose something about Christmas.
The idea is to make a Christmas Tree with some bunch of stuff like:
Strip leds
Raspberry Pi with Face detection
Raspberry pi/Arduino audio detection
Some servos to move few small bells ( sound interaction )
Small boxes that shakes, moves, speaks, etc..
Hack some decoration ( maybe get something at Pound Land and hook it up with Arduino )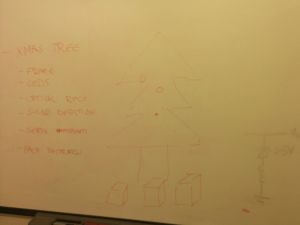 What do we need
We need you! We need people to join us the next meeting and help us on this awesome project.
Bring over your ideas, your spare parts to make this amazing project and let's hack it!
Items
What we got:
5 Arduino mini ( special donation from our member ) + another one
Tree - Made with two pieces of wood
LEDs ( RGB about 50 or more )
Raspberry Pi
Webcam
Microphone
Light sensor
What we missing:
Arduino ( we need more? )
Servos
Someone good at DIY to make Christmas's gift boxes
People
Here are People that are in the project, please follow the google group as well.
Christian Bianchini - Arduino, Camera - 10 Pounds
Faraz Sayed
Merche Oli
Tak Tran - Leds
Paul MAidment - Leds, Arduino - 10 Pounds
Sean Olufunwa
Dante Zubov
Matt Foss - Arduino , sensors, Raspberry Pi
Anne Jang
Lucia Naidu
Faral Suged - Sensors - 10 Pounds
Budget
We are rising money for extra bit to make the project, we got 30 pounds ( 3 people gave me them ) and the next meeting we will think about how to drink/spend them :)
The budget will cover extra stuff like:
Paint for the tree
More leds or electronics components
Tasks
Here are tasks to complete in the new few weeks (TBH):

1st Week: ( 25 of Nov )
Sort out what items are missing and buy them - DONE
Start the first hack to make the Xmas' song with Piezo - DONE

2sd Week:
Complete the Xmas' song
First Audio detection
First paint of the tree
3rd week:'
Wiring some LEDs
Make some boxes

4th week:'
Decorate the Tree with LEDs, servos, bells ,etc..