Fundraising/January 2011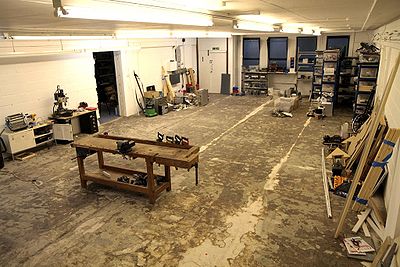 To kick 2011 off with a bang, the London Hackspace has taken the lease on the unit next door to our current workshop, doubling it in size! This gives us a whole load more storage space, and a new metal/woodworking workshop which is four times the size of the old one. It also frees up a lot more space for desks and chairs for hacking, and there are even plans for a sizeable new kitchen!
However, this move substantially increases our running costs to around £4000 per month (the joy of London rent), which is about £1000/month more than we're currently making. We've taken the plunge because it was getting very crowded in the current space, and we're confident we can find enough people willing to pay to do awesome things with the new expanded space.
How to Help
If you're an existing member, please consider increasing your subscription, even if it's just a little bit. If all our members increased their monthly subscription by £7, we'll be in the black again.
If you're not a member, let us know what would convince you to sign up! We only ask you to pay what you think membership is worth, and our minimum is £5/month. If you want to see what we're up to, come to one of our free Tuesday evening meetups or our spacewarming party on February 6th.
Either way, tell your friends and try and convince them to sign up too - the more the merrier!