Difference between revisions of "Pledge: Desoldering Gun"
Line 54:
Line 54:
 
 
 

Paid: '''£82'''

 

Paid: '''£82'''

 
+
 
+
---
Revision as of 20:20, 5 December 2011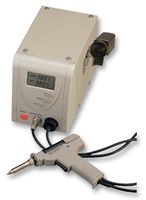 Let's get a desoldering gun!
Pledge leader: Johannes
The item
Or Ebay? link
Or magical CPC price? special link ... Normal product page with higher price
Videos
What is it and why do we want it?
A desoldering iron/gun is a tool with a hollow heated tip, and a trigger for activating suction. Should make desoldering components a lot easier!
Specs
   DESOLDERING STATION, UK/EU PLUG, 80W
   Supply Voltage VAC:230V
   Heat Temperature Range:+160°C to +480°C
   Plug Type:UK / Euro
   Power Consumption:80W
   Supply Voltage AC Max:240V
   Supply Voltage AC Min:220V
   Temperature Max:480°C
   Temperature Min:160°C

Parts to be ordered
https://spreadsheets.google.com/spreadsheet/pub?hl=en_US&hl=en_US&key=0Am-ywTDp2EqfdFVucVI1cExMdUMtLWlXdGlhb2NtYWc&single=true&gid=1&output=html
Pledges
£20 -- Johannes PAID
£10 - martind PAID
£2 - Ciarán PAID
£15 - Mike PAID
£10 - Solexious PAID
£10 - Artag PAID (overpledge - specifically to get some spare tips and filters .. not sure what, possibly one of each + a bag of filters + a spare heater. Or wait until it's delivered and see what's included, then just get the extras from farnell)
£5 -- Hypno PAID
£10 - Tweaker PAID
Running total: £82
Approximate target: £82.86
Paid: £82