User:Mr Moonhead
Jump to navigation
Jump to search
The printable version is no longer supported and may have rendering errors. Please update your browser bookmarks and please use the default browser print function instead.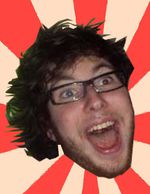 Hello,
My earth name is Max Bye.
I'm usually working on apps or game designing stuff on emotional intelligence.
I run a free coding workshop every wednesday.
My hobbies include mindfulness, food and shark facts.
Thanks for reading my awesome wiki entry!