User:Teabot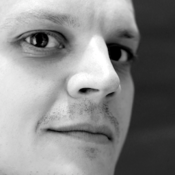 AKA Elliot
Interests
Robotics
Home lighting control
Home automation
Home AV control
Rotor based flight
Projects
In my head
Caller ID -> Google lookup - Phone rings with unknown number, number looked up in Google, tells you who is calling.
Home made vacuum former
Convert the IR code database from LIRC to the format used by the iTach - should be easy but I haven't got around to it.
Making a scale railway crossing barrier for my young train obsessed nephew - mechanical advice needed!
Ballbot remake - sourcing the omni-wheels is a problem - they are very cool wheels - almost the entire circumference rotates perpendicularly to the main axis of rotation.
In progress
Construction of a more optimal member storage box.
spacensus - Measuring the occupancy of the hackspace.
Actually got around to finishing
Making some kind of LED flashy christmas cubaubles with the laser cutter (on Thingiverse)
Constructing a ventilation system for my home AV cabinet (just an IKEA Bonde sideboard)