User:Dariomolinari
heavyset italian from Germany and Belgium in an Irish-English household. Addictive and inquisitive personality, interested in everything techie and gadgety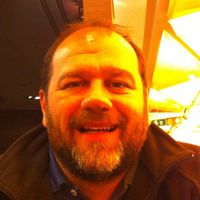 Work
Technical Sales for an IT Megacorporation- Network Management (enhanced FCAPS model)
Personal
Passionate about my family (Wife + Daughter), Inter Milan and vacations in Italy and Ireland
Projects
Arduino:
Raspberry Pi:
3D Printing:
Some version of RepRap Prusa Air or PrintrBot
very early stages... just ordered 5 NEMA 17 motors; bought threaded M8 rods, bolts and washers and continuing to scour for parts
Android Hacking:
Advent Vega running Jelly Bean
Ainol Aurora 2 and MK802 running ICS
ARM-powered cheapo Ultrabook
Motorola Atrix still on 2.3
Linux:
Debian, Ubuntu, Gentoo, RedHat, etc. on a number of PCs, laptops and embedded platforms
Home Networking:
Ever-changing home network layout monitored by Cacti (QoS, Rflow, etc.)
PoE powering of WiFi Router, 8-port gB switch, IP Webcam
RasPi XBMC Media Player (Openelec)
Download/Media headless mini server(SabNZBD+, MediaTomb, xRDP, etc.)
et Cetera
       STEM Ambassador and Codeclub Volunteer
       Languages: italian, french, english and german
       Movies
       Classic Sci-Fi literature
       Indie Comics, Mecha Anime
       and... pizza!!!