Good news - we're open for limited services in Wembley. Ujima House is now actively under refurbishment and we'd love your help in making the space the best it can be.
Please pay attention to the main LHS mailing list or pop into our #london-hack-space IRC channel and say hello.
During this interim period donations and continued membership are greatly appreciated while we transition to our new space.
User:Teabot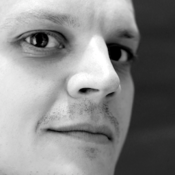 AKA Elliot
Interests
Robotics
Home lighting control
Home automation
Home AV control
Rotor based flight
Projects
Complete
Construction of a more optimal member storage box.
spacensus - Measuring the occupancy of the hackspace.
Making some kind of LED flashy christmas cubaubles with the laser cutter (on Thingiverse)
Constructing a ventilation system for my home AV cabinet (just an IKEA Bonde sideboard)
In progress
In my head
Caller ID -> Google lookup - Phone rings with unknown number, number looked up in Google, tells you who is calling.
Home made vacuum former
Ballbot remake - sourcing the omni-wheels is a problem - they are very cool wheels - almost the entire circumference rotates perpendicularly to the main axis of rotation.
Abandoned (for now!)