3D Printing
Jump to navigation
Jump to search
We have two 3D printers kindly provided to London Hackspace by Lulzbot.
Equipment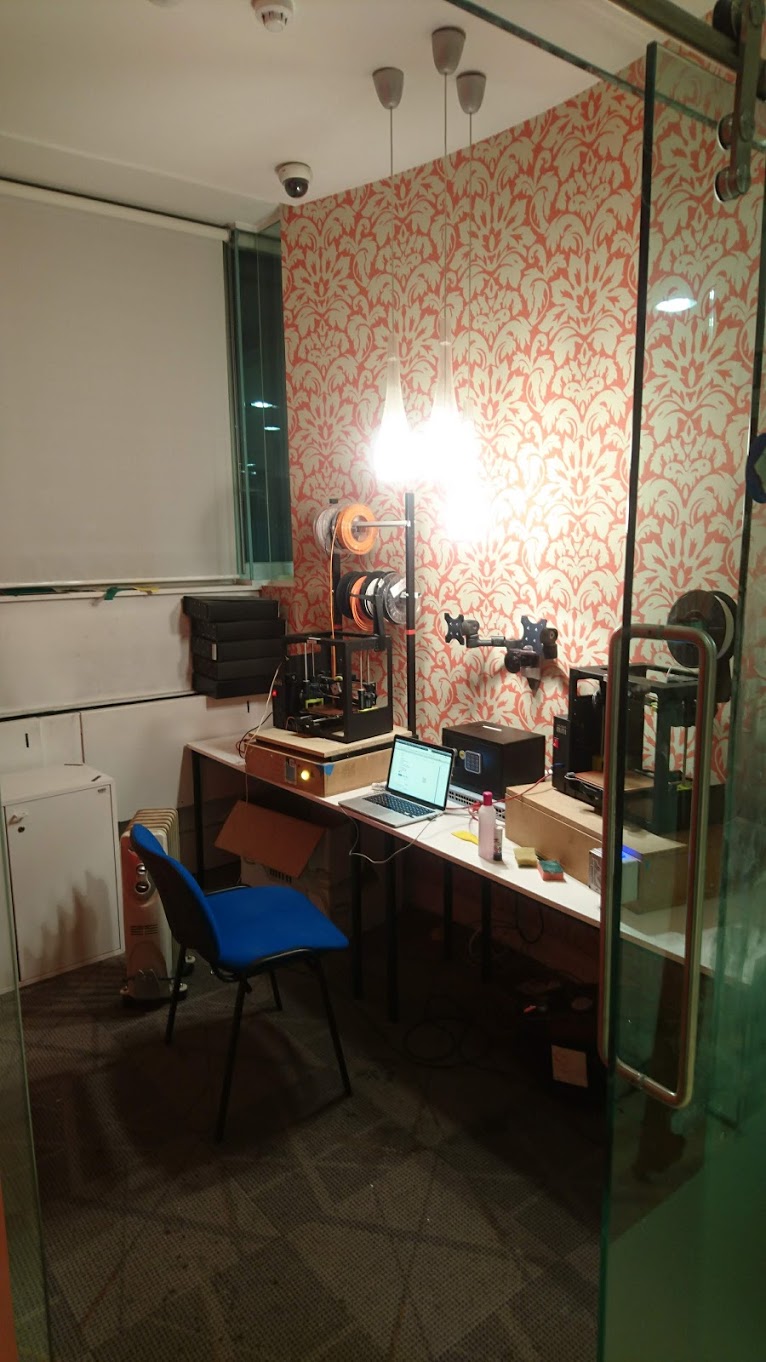 Hull
Hull is a Lulzbot Mini Standard.
Hull was named after Chuck Hull, pioneer of stereolithography, co-founder and CTO of 3D Systems.
Crump
Crump is a Lulzbot Mini, fitted with an E3D aerostruder. This is capable of extruding flexible filament such as Ninjaflex.
Crump was named after Rolly Crump, noted psychedelic artist and Disney Imagineer.
ERYONE Thinker
The ERYONE Thinker is the name of our newest 3D Printer donated to us. It works with SD cards by plugging in the SD card directly to the 3D printer interface. Hooking up this printer's USB cable directly to Oliver will allow you to use the Repetier-Host V2.2.4 software to slice your .stl files into .gcode files. After slicing using the recommended built-in CuraEngine, Repetier gives you the option to save your GCODE file in a format compatible with SD cards.
Oliver
Oliver is the name of the HP-All-in-One PC that you can use in the 3D printer room to access the Octoprint web interfaces if you don't have a laptop with you.
Cost
Using the printers costs £1.50/hour of printing + 50p/metre of filament. Octoprint gives you both of these.
Training
Training is required. There is a cost of £5 to be trained (waived if trained on the old printer), payable to the trainer.
Current trainer/maintainers are: Maheemal, Welshie, Aidas, and Dragos. More trainer/maintainers are welcome.
Training Wiki page: https://wiki.london.hackspace.org.uk/view/Lulzbot_Mini_Training
The Lulzbot printers use ACnode to verify that you have been trained. Please do not share access to any untrained individuals as you will lose your access as well.
Using ACnode
ACnode is our access control system for the 3D Printers, it consists of an RFID card reader (under the Hackspace sticker), a Launchpad to control it, an RGB light-up button and a connection to an authorised members database. To use it, place your membership card on top of the Hackspace sticker and the ACnode will activate if you are a trained member.
Members can check the status of the tools at the space and their access to them here:
https://london.hackspace.org.uk/members/tools.php
ACnode Colours
Blue: In Service
Red: Out of Order
Green: Active (using a trained users card)
Yellow: Active (using a maintainers card)

Setting the 3D Printer out of order
Place your card on the ACnode so it activates and turns green
Press the button on the front once, it should flash red
Press again and keep it held for a second or two, then release
After a moment the button should turn red, that particular 3D Printer is now out of order. It will require a maintainer to put it back into service.
Logging
All prints are to be logged via : http://goo.gl/forms/ARNWXexh7zXHSq8p1