Equipment/LatheMillCombo
3-in-1 Lathe
Model
Chester Centurion 3-in-1 500mm
Sub-category
defunct
Status
Retired
Last updated
21 January 2019 12:08:04
Consumables
Unknown
Accessories
125mm 3-Jaw Chuck, 1-13mm Drill Chuck & Arbor, MT4 & MT3 Steel entres, Lathe Tool Set, Milling Drawbar, 4-Way Indexing Toolpost, Combined Vice/Compound Slide, Lathe & Drill Chuck Guards
Training requirement
Yes
Training link
Lathe_Training
ACnode
Yes
Owner
LHS
Origin
Pledged March 2011
Location
Gone
Maintainers
Liam, Ian, Dean, Russ
Please don't use the 3 in 1 Lathe unless you have been
trained
.

London Hackspace has a Chester Centurion 3-in-1 500mm lathe/mill/drill. This is a useful tool for tasks which are too large for our mini mill & lathe.
Safety Information
This is a dangerous machine, and is perfectly capable of causing serious injury. For this reason, you must be trained to use it. It's fitted with a and ACNode and a key-switch emergency stop so that only keyholders can switch it on.
It's worth reading around the subject before you try to start on the actual machine - it's easy to teach some simple basic operation, but much harder to teach all the things you SHOULDN'T do. You've got to get a real sense of your limitations, and always research any new operation to make sure you're doing it safely. There are pointers to educational materials in the Library
Training
For full information and to sign up to training sessions, see the Lathe Training page
More information on Lathe Training. Add tips to the Poster.
MIT have 3 videos about working with a lathe. You will still need in-person training, but they are full of good tips and will help everything go smoothly.
Lathe 1: Lathe basics; turning and facing; cutting off a part
Lathe 2: Tapping; boring; knurling; cutting tapers; turning shafts with a live centre; single point thread turning
Lathe 3: Chucking large items; using lathe arbours; turning between centres; working with irregular shapes & thin materials.
Using the 3-in-1 Lathe
Please don't use the 3 in 1 Lathe unless you have been
trained
.
The Logbook is used to record any changes, problems or concerns about the machine.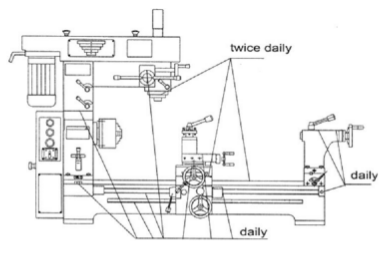 Oiling is critical to keeping the 3-in-1 in a good condition. The machine must be oiled before and after every use. The slideways should be oiled with slideway oil, and all other parts should be oiled with general-purpose machine oil. See the full manual for further details: File:Centurion Instruction Manual.pdf
Updates
10-JUL-2014 (James): I spent a fair chunk of time making a new micro switch aluminium shaft & chuck guard for the 3 in 1. Now it lets you open the chuck jaws to their full potential with ample clearance from the edge of the Perspex. I designed it so it stays horizontal relative to the chuck and will not operate if the chuck key is located in the chuck.
Tools
A basic set of tooling is already available:
125mm 3-Jaw Chuck
1-13mm Drill Chuck & Arbor
MT4 & MT3 Steel centres
Lathe Tool Set
Milling Drawbar
4-Way Indexing Toolpost
Combined Vice/Compound Slide
Lathe & Drill Chuck Guards
If you would like to help there is an active pledge to buy more tools for this machine.
It is recommended that you supply your own cutting tools, e.g. 12mm shank tools. It's generally not recommended to grind your own cutting tools unless you really know what you're doing (and have the time!)
Projects
Please list here your projects
Maintenance
The current maintainers on the 3-in-1 are:
Liam Lynch
Ian H,
Dean Forbes
Adrian
Russ

Please speak to one of these people if you encounter any problems with the lathe. Maintainers are NOT cleaners however so don't expect them to clean up for you! If you can't find them immediately, make sure you email the list.
More Information
Add your links here with a small description.
Mailing List