Archive:Events/Secret Life of Machines Night
Jump to navigation
Jump to search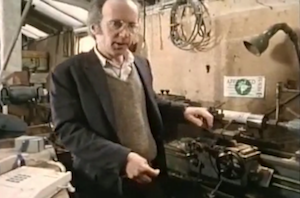 The Secret Life of Machines is an amazing TV series from 1988-1993.
We shall be getting a projector and watching a few of these episodes together. It would also be fantastic if we can reconstruct some of the live demos from the show. If appropriate we can modernise a few. For instance we could investigate how a Dyson works after watching "The Secret Life of the Vacuum Cleaner".
Wednesday 17th November, 18:30
at London Hack Space - Non-members welcome!
Help needed.
Most importantly: Hardware and volunteers for demos
Finding the best quality videos we can find
Any other thoughts or ideas
Email me at james@abscond.org or find me (abscond) on the london-hack-space IRC room
Sign up
We're not sure what the capacity is, but let's see how many want to fit in. If we're overfilled we'll figure it out with plenty of notice, London Hackspace Members will get priority.
Registration list:
TIM FUCKING HUNKIN (Maybe. Probably not.)
James Darling
Mark
Jonty
Zac
PJ
Solexious (possibly)
Artag (I hope)
Tom P
Matt H
dsikar (+1)
Johannes (maybe)
Showing 1 related entity.