Good news - we're open for limited services in Wembley. Ujima House is now actively under refurbishment and we'd love your help in making the space the best it can be.
Please pay attention to the main LHS mailing list or pop into our #london-hack-space IRC channel and say hello.
During this interim period donations and continued membership are greatly appreciated while we transition to our new space.
Project:Young Hackspace
Note: this group is not currently active. For a few months in 2011, London Hackspace members organised a series of workshop for kids and young teenagers. Taking the ingenuity, skill and experience of all you seasoned hackers and using it to teach the next few generations. As part of this infrequent event we invited groups of young children and teenagers to the Hackspace and showed them how to make things. Electronics, crafts, lasers, sound, ...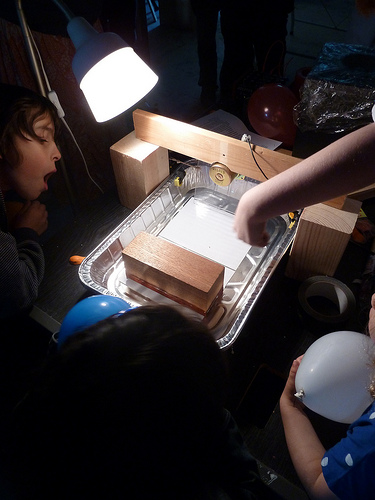 Updates
16-OCT-2014 Group restart meeting
Contact
Context
Project Documentation
Pages:
Events: