Difference between revisions of "Pledge: Hackspace garden"
Line 1:
Line 1:
−

[[File:HackspaceOrganicGarden.jpg|450px|thumb|right|Visalisation - note that revised plan only has 4 beds]]

+

[[File:HackspaceOrganicGarden.jpg|450px|thumb|right|- ]]  

−

[[File:HSGardenGoogleVIew.jpg|250px|thumb|right|Proposed location of the said garden]]

 
 
 
 
 
---
Revision as of 18:22, 12 June 2015
Further to the discussion on the Garden Space Project thread we've have made many changes to initial design.
Pledge leader: Zia
Designer: Agnieszka Deberny
Landscape Architect: Natalie Yockelle
Carpenter: Justin Fishlock
Engineer: Ali Toraner
Electronics Engineer: Zerahiah
Metal Worker: Menta/Eugene
News
09-APR-2015: Pledge drafted
What?
Our north east corner is currently a mix weeds and rubbish which can be transformed into a clean, green and social relaxing space. This group project aims to create a raised bed edible garden with seating the total cost building cost in the Hackspace carpark is £255.
Sketch - Design and Measurements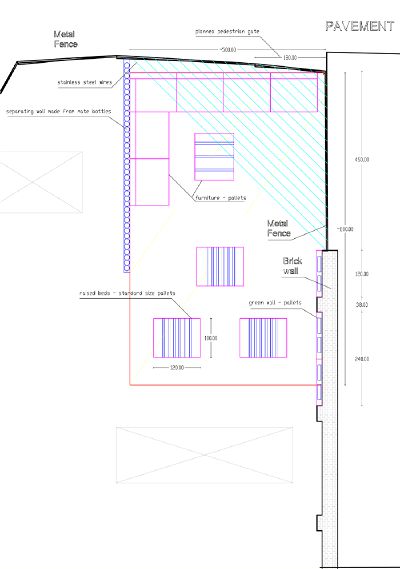 More Details
We plan to build a organic edible garden space that allows the hackers to relax and unwind while sampling the delicious fruit and vegetable available. The wine grapes can be harvested by Russ Grant and we can become soo very posh while we enjoy our wine.
We plan to finish the project in 1-2 weeks. The total cost of the project is £255
Cost
| Item Name | Quantity | Size | Price |
| --- | --- | --- | --- |
| Timber Fence Post | 9 | 75 X 75mm X 6ft | £71.91 |
| Fencing Line Wire | 2 | 2mm x 50m | £22.50 |
| Fence Post Support | 2 | 75mm | £15.98 |
| 250G Raised Bed Lining | 3 | 4M X 3M | £23.97 |
| Vegetable Plants + Fruit | 30 | 7-9cm pot | £60 |
| Transport to get Plants + Material | | | £60 |
| | | | |
| | | | Total Cost: £255 |
Pledges
Pledged: £40 of £255