Good news - we're open for limited services in Wembley. Ujima House is now actively under refurbishment and we'd love your help in making the space the best it can be.
Please pay attention to the main LHS mailing list or pop into our #london-hack-space IRC channel and say hello.
During this interim period donations and continued membership are greatly appreciated while we transition to our new space.
Pledge: Hackspace garden
Further to the discussion on the Garden Space Project thread we've have made many changes to initial design.
Pledge leader: Zia
Designer: Agnieszka Deberny
Landscape Architect: Natalie Yockelle
Carpenter: Justin Fishlock
Engineer: Ali Toraner
Metal Worker: Engineer: Zerahiah
Electronics: Mentar/Eugene
News
09-APR-2015: Pledge drafted
12-JUN-2015: Pledge ready
What?
Our north east corner in the car park is currently a mix weeds and rubbish which can be transformed into a clean, green and social relaxing space at a total building cost of £255.
Sketch - Design and Measurements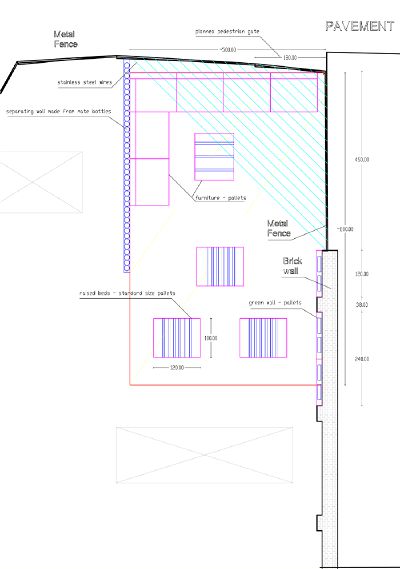 Duration, Deadline
We plan to finish the project in 1-2 weeks.
More Details
We plan to build a organic edible garden space that allows the hackers to relax and unwind while sampling the delicious fruit and vegetable available.
Cost
| Item Name | Quantity | Size | Price |
| --- | --- | --- | --- |
| Timber Fence Post | 9 | 75 X 75mm X 6ft | £71.91 |
| Fencing Line Wire | 2 | 2mm x 50m | £22.50 |
| Fence Post Support | 2 | 75mm | £15.98 |
| 250G Raised Bed Lining | 3 | 4M X 3M | £23.97 |
| Vegetable Plants + Fruit | 30 | 7-9cm pot | £60 |
| Transport to get Plants + Material | | | £60 |
| | | | |
| | | | Total Cost: £255 |
Plant Donations
We have noticed that a lot of people have plants to offer the space. I will add those that I have found on the mailing list and apologise for any I miss out. If you are interested in donating some plants then please add your name below with the plant.
Star Jasmine, Aloe Vera, Lavender, Strawberries, Grapes, Mint, Roses - Zia Rahim
Rhubarb, Tomatoes, Chives - MScroggs
Seedlings: Lemon & Pomegranate - Ants
Garden Helpers
If you would like to get involved with helping build the garden, then please add your name below with what you would like to do.
Pledges
Pledged: £320 of £255
Paid: £310 of £255

Target reached! Please pay your pledge amount into the Hackspace account with ref GARDEN then add "paid" next to your name below.